African dance healing powers extolled at workshop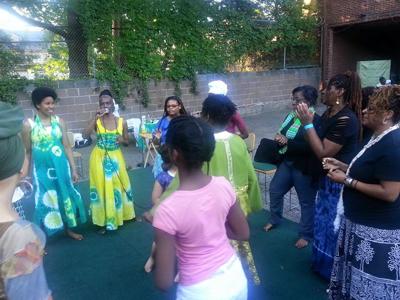 The Ausar Auset Society's Philadelphia chapter drew a full house to learn about the healing power of joy, as the fourth annual conference's theme was "Heal a Woman, Heal a Nation."
The event was created by Queen Mother Maash-t Amm-Amen, a Het-Heru healing dance priestess, and was held at the group's headquarters at 6008 Germantown Ave. on May 28.
The Het-Heru healing dance is a simple, low-impact total body workout that would appeal to a wide range of people, Amm-Amen said.
"Women have said that it's helped with alleviating stress, toning of the stomach and uterine muscles, and improved menstrual cycles," she said. "It has decreased fibroids, enhanced creativity, and harmonious relationships with 15 minutes of daily practice. [All] can experience the ecstasy of the Het-Heru healing dance."
So, the Saturday workshop began with a healing meditation. It was followed by the Healing From Within workshop before there was a fashion show of African and Afrocentric attire.
To cap it all off, Amm-Amen held an hourlong healing dance workshop.
"It is important to breathe from the diaphragm," Amm-Amen told the dozens of women who did the exercises as a group of male drummers provided the background music.
"We must teach ourselves to recognize stressors. We must fill ourselves with love," she said.
Ser Maa Keru Men Metu, who became a priest eight years ago, was among the elders who greeted the visitors. He said the Ausar Auset center conducted several workshops that focused on the spiritual teachings of East Africa. Among these are Ausarian initiations into the ancient Khamitic system and workshops such as Heru Khuti that helps one dispel bad habits and connect with divine intelligence.
"This is about healing," said Shekhem Sa Kherpera, who was among the speakers and a regular attendee.
"When I first came for class here I felt the energy. So, now I am a high priestess and I am the meditation instructor of the Kemetic teachings," she said.
Shekhem Rekhati Men Hetep, another Ausar Auset instructor, said that it was two years ago he first became interested in qi gong. Though it is based on Asian principles, qi gong has its origins in Africa, with many Asian traditions retaining the original healing art form.
"Qi gong is ideal for taking away stress," Hetep said. "It has been a blessing to learn qi gong. The healing power is amazing. Children who have had [trauma] can benefit from qi gong and adults can also find healing in this.
"These healing methods are great for the kidneys. Many of our health problems are related to the kidneys. If you heal the kidneys you can heal many [diseases]. So, having something like this that focuses on the healing power of joy is a blessing," Hetep said.
For more information about the Ausar Auset Society of Pennsylvania, call (215) 843-0900 or visit ausarausetpa.com.